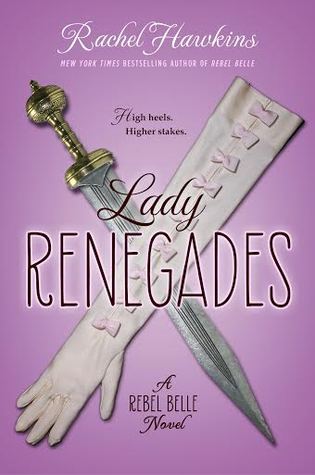 TITLE: Lady Renegades
Book 3 in the Rebel Belle Trilogy
AUTHOR: Rachel Hawkins
PUBLISHED: April 5th, 2016
CATEGORY: YA
GENRE: Urban Fantasy
PREMISE: David has left Harper behind. Just as she starts trying to move on, Other girls claiming to be Paladins sent by David start trying to kill her.
MY REVIEW: Once again, it looks like I'm the only one that actually enjoyed the ending of a trilogy/series. This seems to be happening a lot lately. Oh well.
So I liked the way this one ended. It wasn't typical of most YA trilogies (which I'm guessing is why it's not a super popular ending), it was a bit more bittersweet then most. I do think the middle part of it dragged a lot. For most of it, David and Harper are separated so I did miss the snark there. But we still have Harper kicking butt and her awesome friends and at the end of the day, that was my major draw to this series. So I was happy.
It did everything and ending trilogy should do and tied up some loose ends. I'm personally sad to see this one go. But it looks like Hawkins has a middle-gradish book coming out and apparently a new series in the works so I won't be sad for long.
WHO SHOULD READ: Fans of the first two Rebel Belle books, Rachel Hawkins fans, Buffy fans
MY RATING: Four out of Five dresses
RATING FOR TRILOGY: Four out of Five