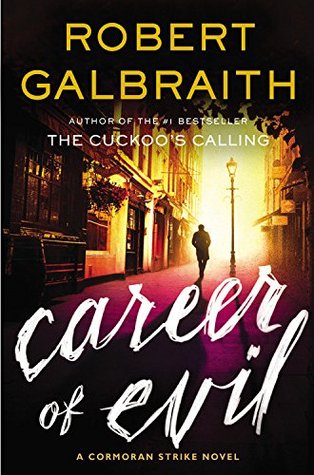 TITLE: Career of Evil
Book 3 in the Cormoran Strike series
AUTHOR: Robert Galbraith (aka JK Rowling)
PUBLISHED: 2015
CATEGORY: Adult
GENRE: Mystery
PREMISE: A body part arrives at Cormoran's office causing him and Robin to delve into suspects who have links to Cormoran's complicated past.
MY REVIEW: My love for this series continues to grow with each installment. I personally, can't wait for the BBC series, whenever that may come. It's great modern detective noir.
This book does a great job in developing not only Cormoran's past, but Robin as well. It all leads to a rather surprising cliff hanger that makes me need the next book like NOW. No release date as of yet, sadly.
If you love old school PI detective books, what are you waiting for? Pick this series up immediately.
WHO SHOULD READ: those that have read the first two books, PI detective novel fans
MY RATING: Four out of Five creepy mysteries