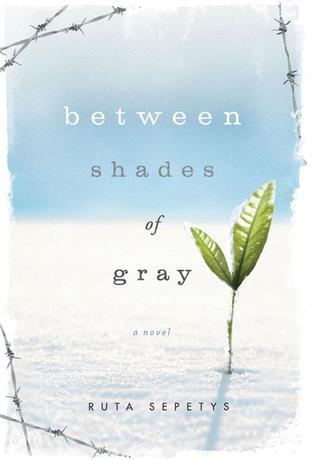 TITLE: Between Shades of Gray
AUTHOR: Ruta Sepetys
PUBLISHED: 2011
CATEGORY: YA
GENRE: Historical Fiction
PREMISE: Lina and her family get rounded up by Soviet officers in Lithuania during WWII and forced on a journey with hundreds of other people...
MY REVIEW: This one has been on my TBR list for quite awhile now. I finally got to it. Like Salt to the Sea, this book looks at an event in WWII that a lot of people don't talk about much. Actually, other then a different setting, this reminded me almost exactly of Salt to the Sea. But Salt to the Sea was written after this. So I kind of feel like going back and lowering my rating for that book, because I can't help but notice that other then different historical event and multiple POVs in one book, these two books are very similar in terms of plot.
Between Shades of Gray is still good though. I do think this is the weakest of Sepetys' writing that I've seen, but I'm also keeping in mind, that this was her first book. It's still powerful, and looks at what people had to do to survive, and not everything is black and white (hence the title). This also makes me wish, yet again, that studies about WWII were not so US/European focused. I get a lot of stuff happened in Europe, but WWII happened in other places as well. It was called the World War for a reason.
So now, I've read all of Sepetys' books. I think my favorite of hers is actually Out of the Easy, but I suspect I'm in the minority there. I can't wait to read her next book, which apparently is going to be in Spain during the 1950s. Bring it.
WHO SHOULD READ: Historical Fiction fans, Salt to the Sea fans
MY RATING: Four out of Five why isn't this stuff taught more in history class feelings