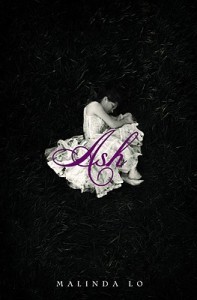 TITLE: Ash
Book 1 in the Ash duology
AUTHOR: Malinda Lo
PUBLISHED: 2009
CATEGORY: YA
GENRE: Fantasy/Retelling, Romance
PREMISE: A retelling of Cinderella with a bit of a twist...
MY REVIEW: This is one of those books I've been meaning to get too forever. There was no particular reason I kept putting it off. It was just one of those things. I was always sure I was going to like it though, and lo and behold: I was right.
This is not my favorite Cinderella retelling. That honor goes to Cinder at the moment. But it is definitely up there in my top five along with the Ever After movie. So, that's a pretty high compliment. Story-wise, this goes much like most fairy-tale retellings do, except in this one, she doesn't exactly fall for the prince, instead she falls for a female huntress. The writing is perfect for it, it's done in a very fairy-tale like way and I love the inclusion of the fae in this.
Is it the most brilliant retelling of Cinderella ever? Perhaps not. But I was personally very satisfied. And again, with all the LGBT ladies dying lately on TV, it was nice to read a book where a female LGBT couple gets their happy ending. Definitely will be reading more Malinda Lo in the future.
WHO SHOULD READ: Cinderella retelling fans, Malinda Lo fans, those looking for happy ending LGBT books
MY RATING: Four out of Five happy endings