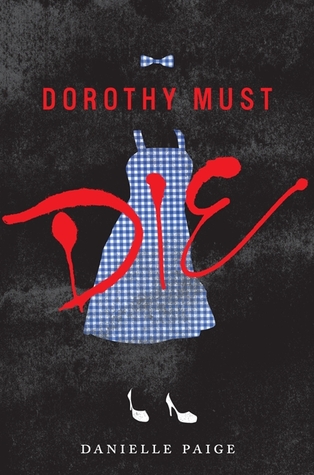 TITLE: Dorothy Must Die
Book 1 in a new series
AUTHOR: Danielle Paige
PUBLISHED: April 1rst, 2014
CATEGORY: YA
GENRE: Fantasy, Retelling/Reimagining
PREMISE: Amy gets caught in a tornado and sent to the land of Oz where it turns out that Dorothy has become a power hungry tyrant...
MY REVIEW: This book was kind of a roller coaster for me. My feelings towards it would go up and down constantly while reading it. I mean that first chapter was kind of cringe inducing for me. It had the stereotypical bitchy popular girl (that also reeked of slut shaming) and the ridiculously bad parenting stuff that has given YA a bad name for years. But...I also kind of understand why it happened. We had to see that Amy's life stunk enough for her to NOT want to go home. But I think you could have done that without slut shaming, just saying.
But after the slightly bad beginning, there is the awesomeness that is Oz. When we get o Oz is when the writer's ability starts to shine. She seriously thought this world through and it was awesome. She gets the whole show and not tell thing. There were complicated characters, and adventure happening all the time. Granted, in between that, we had the totally unnecessary love interests, which is why this book went up and down for me. Most of my glee came from the fab world building and twists that the author put on Oz. That's why I picked it up after all.
So...it's a bit of a mixed bag quality wise. Entertainment wise however, it's pretty damn fun. Makes for a good library read.
WHO SHOULD READ: Once Upon a Time fans, Wizard of Oz fans (who don't take Oz too seriously)
MY RATING: Four out of Five heroines gone evil