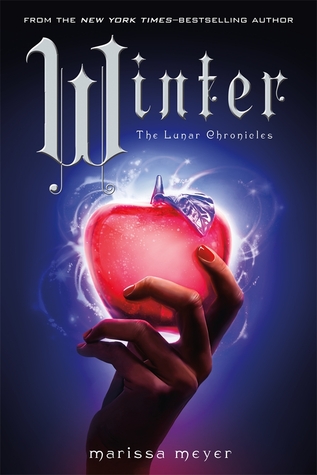 TITLE: Winter
Book 4 in the Lunar Chronicles series
AUTHOR: Marissa Meyer
CATEGORY: YA
PUBLISHED: November 2015
GENRE: Sci-Fi, Fairy-Tale Retelling Mash-up
PREMISE: Cinder and her friends get a rebellion going against the evil Queen of Lunar.
MY REVIEW: I meant to get to this a lot sooner then I actually did. But real life happened. Then there's the fact that this book was long. It looks the same size as the others, but is in fact about three hundred pages or so more then the other books. For good reason. There's a lot going on in this book.
The way it goes about bringing down the queen is actually quite unexpected. I love how the author did it. It was hard, the characters had to work for it, but they got their happy ending of sorts. All the story lines are tied up in a satisfactory way. There's some hints of more that I suspect will be tied up in the short story collection, which I grabbed last week. I'm hopefully going to get to that one next month.
This does everything an ending to a series should. I was very satisfied with it. I can't wait to get my hands on Heartless, whenever that happens.
WHO SHOULD READ: Those that have read the first 3 books, fairy-tale retelling fans, Once Upon a Time fans
MY RATING: Four and a half out of Five rebellions
RATING FOR SERIES: Four and a half out of Five