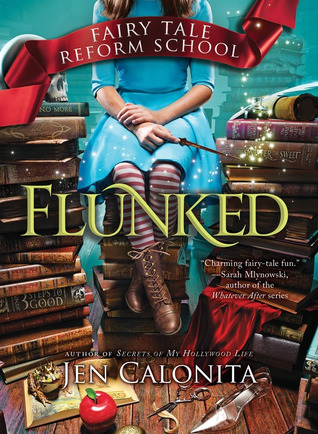 TITLE: Flunked
Book 1 in the Fairy Tale Reform School
AUTHOR: Jen Calonita
CATEGORY: Middle-Grade/Childrens
PUBLISHED: March 2015
GENRE: Fantasy/Fairy-Tale Referencing
PREMISE: A young thief gets caught stealing from royals and is sent to fairy tale reform school: a place designed to redeem villains.
MY REVIEW: I have very mixed feelings about this one. It is a lot of fun. It's clearly mostly there to entertain the tweens who fell in love with things like Descendants and what-not. If you have a Descendants fan in your household, I highly recommend giving them this.
With that in mind...it's not terribly original. There's lots of stuff here that I've seen done before. But Calonita does manage to keep it engaging with a fun main character. I wish it wasn't bogged down by usual tropes like the villianization of the feminine girl. Literally every girly type girl in here was mean or made fun of. I'm sorry, I'm over this trope.
So...I don't know about this one. On one hand: I'm really not the audience for it. It's for the younger crowd and I'm sure younger readers will get a kick out of it. On the other hand...there's not much in here that's groundbreaking or new. It makes for a nice library read, but that's about it.
WHO SHOULD READ: Tweens, fans of Descendants, fairy-tale mash-up fans
MY RATING: Three out of Five fairy tale schools