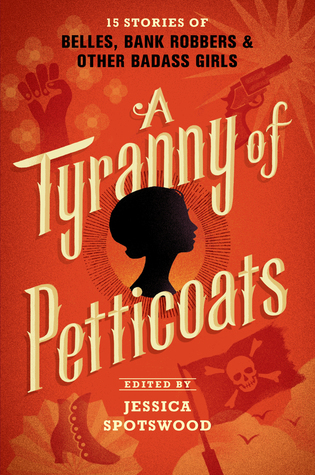 TITLE: A Tyranny of Petticoats
AUTHOR: Various, edited by Jessica Spotswood
PUBLISHED: March 8th, 2016
CATEGORY: YA
GENRE: Historical Fiction/Historical Fantasy
PREMISE: A collection of short stories by various popular YA authors that have a historical fiction or historical fantasy type setting.
MY REVIEW: Anyone who reads this blog, knows I love my historical fiction and historical fantasy. So it's probably no surprise to you that I picked this up as soon as I saw my library had it.
As with most short story collections, it's a bit of a mixed bag in terms of quality. But the thing that surprised and made me very happy about this collection was the wide variety of girls and situations presented here. Despite the title, it's not just girls in glamorous petticoat dresses. There's diversity as well as LGBT representation here and everyone from poor to rich are shown. It also has a wide variety of time periods that stretch from the seventeen hundreds to the sixties.
I had a couple of favorites in here, including one from Marie Lu. If you're in the mood for some quick historical setting reads, this is a great pick.
WHO SHOULD READ: Historical Fiction fans, Historical Fantasy fans, YA fans
MY RATING: Four out of Five petticoats