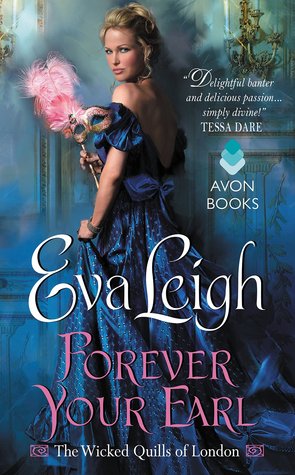 TITLE: Forever Your Earl
Book 1 in the Wicked Quills of London series
AUTHOR: Eva Leigh
PUBLISHED: September 2015
CATEGORY: Adult
GENRE: Historical Romance
PREMISE: An earl challenges a reporter to follow him around since she writes about his daily scandals in her paper.
MY REVIEW: The next romance on the TBR list was this 2015 debut. It was a fun little romp. I didn't enjoy it nearly as much as I enjoyed the Sarah MacLean one. After the couple had the sex, the plot sort of fizzed out, which is a problem a lot of romance novels can have.
But the banter was fun. The writing...average. It wasn't overly flowery and the romance was a fun one instead of one that made me sigh so I give many points for that. It was a perfectly decent debut.
WHO SHOULD READ: Historical Romance fans, Sarah MacLean fans
MY RATING: Three and a half out of Five regency dresses