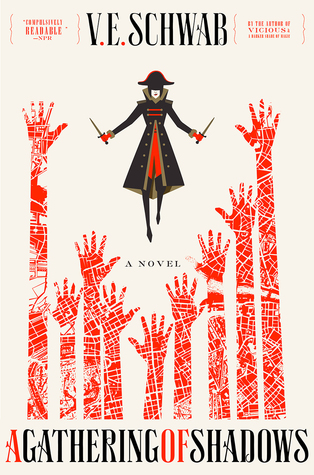 TITLE: A Gathering of Shadows
Book 2 in the Shades of Magic series
AUTHOR: V. E. Schwab
PUBLISHED: February 2016
CATEGORY: Adult
GENRE: Fantasy
PREMISE: In the lands of multiple Londons, a magical tournament is being held. It draws Kell and Lila back into each other's paths...
MY REVIEW: I'm so happy that V. E. Schwab has gotten her due lately. I loved The Archived series and Vicious and now with this series, I think it's safe to say that she's here to stay. This installment in the Shades of Magic, shows why.
It's an excellent sequel. True, it tends to drag somewhat in the middle, as all sequels tend to do. But the payoff at the end is worth it. It does further character development, as well as world building, as all good sequels should do. You may have heard of the cliff hanger at the end, and...I don't think it's as bad as people say, but it's still a pretty big one. I am now pining for the third book like whoa. Almost as much as I'm pining for the third Archived book which has been promised, but no release date as of yet. ;sigh;
But in the meantime Schwab has This Savage Song coming out in July, so that's something to tide us over until the next book comes at least. If you read A Darker Shade of Magic and loved it, absolutely pick this up.
WHO SHOULD READ: Those that have read A Darker Shade of Magic, fans of dark fantasy
MY RATING: Four out of Five magical Londons