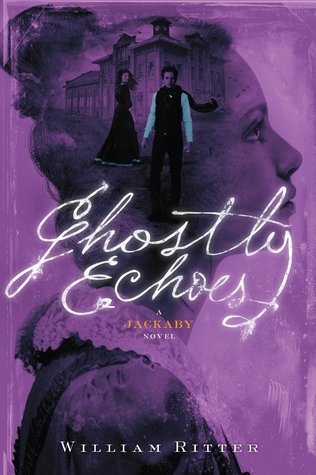 TITLE: Ghostly Echoes
Book 3 in the Jackaby series
AUTHOR: William Ritter
PUBLISHED: August 23rd, 2016
CATEGORY: YA
GENRE: Historical Fantasy, Mystery
PREMISE: Abigail continues her apprenticeship to Jackaby, this time the mystery they're solving is a bit more personal: the murder of their ghost friend, Jenny.
MY REVIEW: If ever there was an unsung series, this one is it. It's been a fun series from the start, and this latest installment is no exception. For those that have never read it, think Dresden Files meets Doctor Who but with better treatment of female characters.
Ritter continues great world building, fun adventures, and we get a peek into the past of Jenny and even some more revelations about Jackaby. As always, it's a quick read and there's plenty of snark and great dialogue to help move along the few slow parts.
Apparently the next book in the series is going to be the last. I'll be sorry to see this one go, but if it means we get more new things from Ritter, then I don't mind one bit.
WHO SHOULD READ: Dresden Files fans, Doctor Who fans, Sherlock fans, historical fantasy fans
MY RATING: Four out of Five ghost murder mysteries