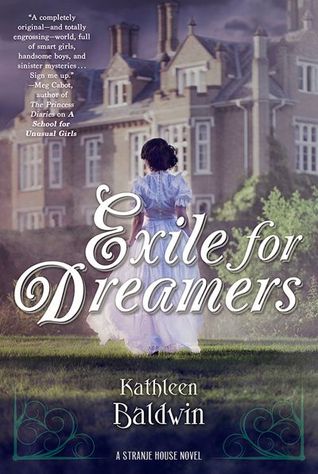 TITLE: Exile For Dreamers
Book 2 in the Stranje House series
AUTHOR: Kathleen Baldwin
PUBLISHED: May 24th, 2016
CATEGORY: YA
GENRE: Historical Romance
PREMISE: The adventures of Stranje House continue with Tess.
MY REVIEW: School for Unusual Girls was a pleasant surprise from last year. A very underrated one. True, it had it's issues with things like insta-love. But for the most part, it was a fun alternate history historical romance that was actually kind of refreshing for YA. Mostly because there were girls actually supporting one another and no love triangle to be seen.
This book takes the good things from the first book and expands on those. I think it's smart of Baldwin to move on to new girls each installment. With Tess, we get views that we didn't get from Georgiana because Georgiana was new to Stranje House while Tess had been there for awhile. We also get a new perspective on the villain from the last book, we also get some new promising characters who are sure to tie in for later books.
All in all, it was a fun installment, I look forward to more from this series.
WHO SHOULD READ: Fans of the first book, romance readers
MY RATING: Four out of Five females supporting one another for a change