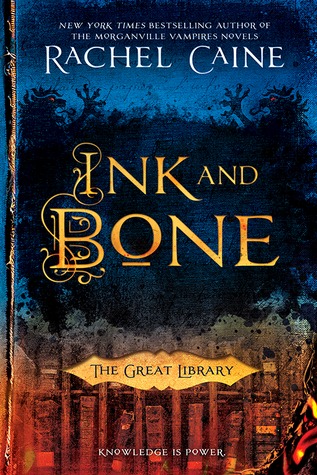 TITLE: Ink and Bone
Book 1 in The Great Library series
AUTHOR: Rachel Caine
PUBLISHED: July 2015
CATEGORY: YA
GENRE: Alternate history, Dystopianish
PREMISE: In a world where the Library of Alexandria never burned but lived on to become a world dominating power, a boy is sent to the library for training...
MY REVIEW: I've been meaning to read this series forever because the premise sounds so amazing and Caine is one of those authors who has great premises, even if her plots are usually average. This one though...I actually think this one might be her best series yet. It not only lived up to its awesome premise, but it exceeded my expectations.
This has a lot of what made Morganville Vampires so entertaining: interesting variety of characters, different premise that you don't see everyday, fast pace with lots of things going on, and snappy dialogue. But it's also much better in that there's not lots of focus on love drama. There's romance but that is secondary to this big plot with the library.
Honestly, I'm hard-pressed to find anything really bad about it. About all I can say is the writing is average. But the quality of the story is very very high. I really wish I'd gotten to this one much sooner. But now that means I don't have to wait long to get to the end so, best laid plans.
WHO SHOULD READ: Rachel Caine fans, those who like alternate histories/dystopians
MY RATING: Four and a half out of Five scary librarians