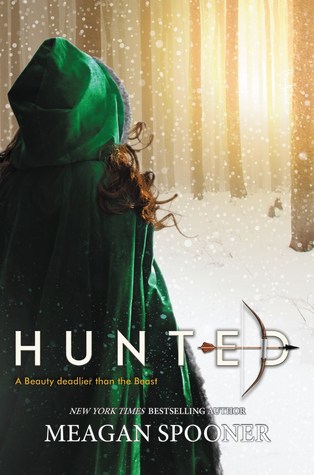 TITLE: Hunted
AUTHOR: Meagan Spooner
CATEGORY: YA
GENRE: Fantasy/Retelling
PREMISE: A retelling of Beauty and the Beast mixed where the girl goes hunting for a beast that killed her father and discovers he's not what she expected...
MY REVIEW: I wanted to read this one the minute I heard about it as I've loved the books Meagan Spooner has done in the past and I believe this is her first solo book that I've read (she wrote another series before These Broken Stars apparently, which I have not gotten too yet). It did not disappoint. In fact, it actually surprised me because it is not only just a Beauty and the Beast retelling, it's an Ivan and the Wolf retelling as well. You would think those would be weird fairy tales to mash up but the author pulls it off and pulls it off well.
The romance is a bit insta loveish (on the Beast's part anyway) but that's kind of a trope of most fairy tales. Beauty and the Beast retellings can be tricky due to the whole is it stockholm syndrome thing, but the author very clearly makes it clear that Yeva's capture was not okay and even after the capture aspect is ended, they aren't in love yet. It does a lot to take that ickiness of the Beauty and the Beast romance out.
This is well written, Yeva and the Beast are great characters and I actually rooted for this couple (which is more then I can say for the last Beauty and the Beast retelling I read) so I say this was a job well done. I hope we get more solo Meagan Spooner books in the future.
WHO SHOULD READ: Meagan Spooner fans, Beauty and the Beast retelling fans
MY RATING: Four out of Five excellent fairy tale mash ups