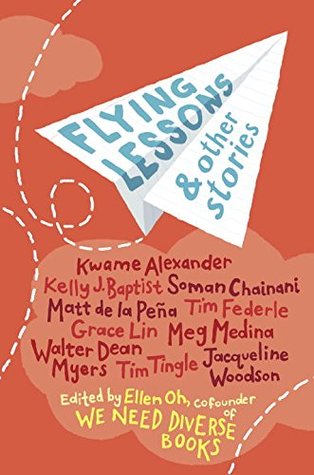 TITLE: Flying Lessons and Other Stories
Edited by Ellen Oh, various authors
CATEGORY: Middle-Grade
PUBLISHED: January 3rd, 2017
GENRE: Contemporary, short stories
PREMISE: A collection of short stories featuring diverse authors and characters from the We Need Diverse Books group
MY REVIEW: For those that don't know, this collection was started by the We Need Diverse Books group. Now, I love this group. They have helped me find so many books that I otherwise might not have and I agree with their message so I support it whenever I can. This collection is basically your average story collection that just features diverse authors and characters.
Like all story collections...some stories are better then others. The most memorable ones to me were the first one, the title short story Flying Lessons, the story that Jacqueline Woodson wrote and the one by Walter Dean Myers (that I'm assuming was found/published after his death). The rest are perfectly decent, but not as memorable.
Overall this is a very solid collection. I wish there was more variety in genres to show that you can do diverse characters outside of contemporary fiction, but that's just my personal wish. It does not diminish or take away from the collection in any way.
WHO SHOULD READ: fans of any of the authors, those looking for diverse reads, contemporary fiction fans
MY RATING: Four out of Five interesting stories