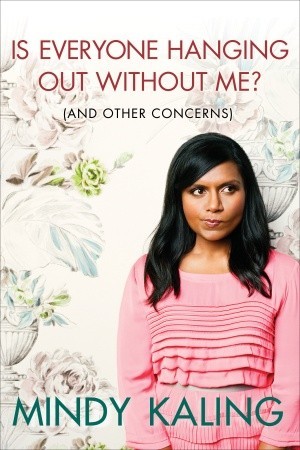 TITLE: Is Everyone Hanging Out Without Me? (and Other Concerns)
AUTHOR: Mindy Kaling
PUBLISHED: 2011
CATEGORY: Non-Fiction
GENRE: Memoir
PAGES: 222
PREMISE: Mindy Kaling, star fresh out of The Office (this was written before her Mindy Project days), gives anecdotes and fun stories about her life.
MY REVIEW: Confession time. I've never really been a fan of The Office. I've seen a few episodes here and there, but never really got into it, even if I did get the jokes. Personally, I prefer Parks and Rec. I've also never seen The Mindy Project. But even without being into either of those things, I know who Mindy Kaling is and am aware of her brand of humor. I am on tumblr after all.
So it took me awhile to pick this one up. But I'm glad I did. It was a fun read. It doesn't go into TOO much of her childhood, but this may have been a personal choice. Some of her family may not have wanted too many stories about them in it. That's perfectly legit. It goes into enough that you get where she came from and goes into more detail during her adult years trying to make it in Hollywood.
This not what I'd call a serious memoir. It won't give you all the feels or anything. But I suspect many people will relate to Mindy at one point or another. There's some on point and great commentary about Hollywood and it's problem with women/race. It's just all around fun. If you're familiar with Kaling and like her style of humor, this would be a good book to pick up.
WHO SHOULD READ: Mindy Kaling fans, Bossypants/Yes Please fans, The Office fans, Mindy Project fans
MY RATING: Four out of Five LOLs