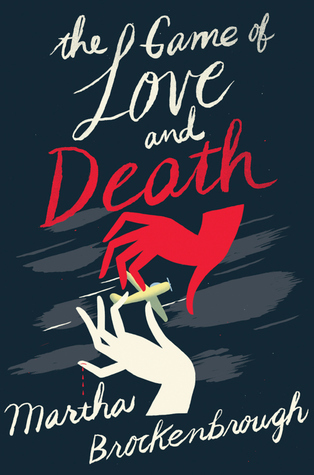 TITLE: The Game of Love and Death
AUTHOR: Martha Brockenbrough
PUBLISHED: April 28th, 2015
CATEGORY: YA
GENRE: Historical Fantasy/Romance
PAGES: 352
PREMISE: Love and Death have a constant game involving mortals. The latest mortals unknowingly involved in this game are Henry and Flora.
MY REVIEW: I solely picked this one up for the concept of it. Love and Death having a game and making bets with it? Sign me up. To be sure, the author does present an intriguing idea here. I just think there were maybe too many plots going at once.
First you had the game thing. Then you had the romance. There was a subplot with Henry's friend. Both Henry and Flora had their own things. Death and Love had a subplot about why they were doing this as well as their backstory. There was a feminist subplot (which I enjoyed, because I am feminist, but still), and it just made for a jumbled story that felt more like two books that were smushed into one and maybe shouldn't have been.
Still, the historical details in this book are lovely. The prose are fantastic. There is a lot of food for thought in this one. So...it was a decent first effort. I could just tell it was a first effort. With time though, I suspect we'll have a great YA author on our hands. I see a lot of potential in her writing and ideas.
WHO SHOULD READ: Historical Romance fans
MY RATING: Three and a half out of Five to Four out of Five I can't make up my minds ratings. It's somewhere between those two ratings I think.