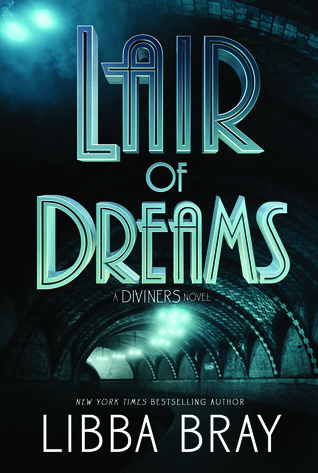 TITLE: Lair of Dreams
Book 2 in the Diviners series
AUTHOR: Libba Bray
PUBLISHED: August 2015
CATEGORY: YA
GENRE: Historical Fantasyish/Paranormal
PREMISE: Everyone is dealing with the fallout of their showdown in the last book. Some better then others. Meanwhile Henry meets Ling, a Diviner with powers of her own and they dreamwalk trying to find his lost love as a dangerous man lurks in the city while a sickness spreads through NYC...
MY REVIEW: I meant to read this ages ago when it first came out. But it was awhile before I could get my hands on it and I had a lot of books I needed to read before I could get to it. Getting to books I own always takes longer then with my library books, that's just the way it is. Then when I finally got to it...well...it's long okay?
But it was definitely worth the wait. I love what Bray did with this sequel. I can sort of see where she struggled with the story, hence the delays and honestly, I'm fine with her delaying it. I'd rather a book be great and what the author wanted it to be, then have a rushed mediocre sequel. I kind of feel more authors/publishers need to do this more if I'm honest. It did drag in parts. Especially around the middle, but overall I loved this just as much as I loved the first book. And I loved the first book quite a lot.
So, despite maybe needing a few parts cut, I think this was a well done sequel. I can't wait until we get the next book which so far, has been promised for next year. ;crosses fingers and hopes the date sticks;
WHO SHOULD READ: Libba Bray fans, fans of The Diviners, Historical Fiction fans
MY RATING: Four and a half out of Five It Girls