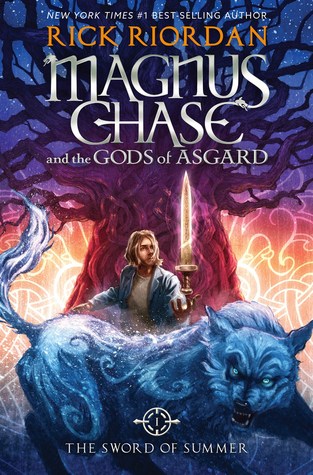 TITLE: The Sword of Summer
Book 1 in the Magnus Chase and the Gods of Asgard series
AUTHOR: Rick Riordan
PUBLISHED: October 2015
CATEGORY: YA/Middle-Grade
GENRE: Fantasy/Urban Fantasy
PREMISE: Magnus has been on the run for awhile now. Everything changes when he dies.
MY REVIEW: This is the kind of book where honestly whatever I say here, will probably make no difference. This series will still do well. Riordan has a loyal fanbase (I should know, I'm a part of it) and there's a good reason for that. The man knows how entertain. Better, he entertains in smart ways.
If you've read the Percy Jackson books or the Kane Chronicles this book will probably be familiar. Riordan has a formula, but it works for him. If it works, don't fix it, I say. This is basically like the rest of his books, except this deals with Norse mythology. As always how Riordan weaves in the myths into his own versions is clever and works well.
I admit, I sometimes have issues with series that do spin-offs upon spin-offs. Sometimes I do really wish authors would move onto to something else (;cough;Cassandra Clare;cough;). But I can get behind it if the author still manages to make the universe fresh and engaging and not stale. Riordan manages that better then most. I can't wait for the rest of the books in this series and yes, I will be reading the Apollo books.
WHO SHOULD READ: Rick Riordan fans, mythology fans, Thor fans
MY RATING: Four out of Five dead heroes still getting stuff done