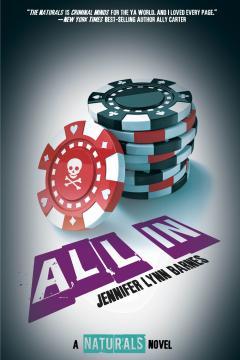 TITLE: All In
Book 3 in The Naturals series
AUTHOR: Jennifer Lynn Barnes
CATEGORY: YA
GENRE: Mystery, Paranormal
PUBLISHED: November 2015
PREMISE: Cassie and her crew are called in to investigate a series of murders in Las Vegas.
MY REVIEW: This review will be short. There's not much to say about this book that I haven't already said about the rest of the series.
Like the other two books, I loved this. Barnes does great character development along with a great mystery. It deftly continued plots from the previous book and kept me interested.
It was in short, a great installment. There is another book coming and as always with Barnes, I look forward to it.
WHO SHOULD READ: fans of the first two books, Criminal Minds fans
MY RATING: Four out of Five poker faces