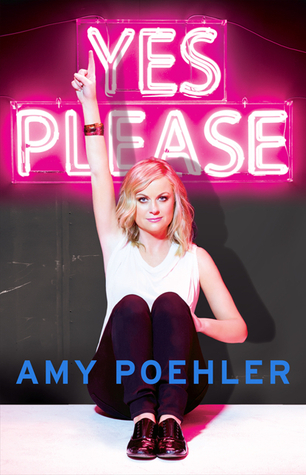 TITLE: Yes, Please
AUTHOR: Amy Poehler
CATEGORY: Non-Fiction
PUBLISHED: 2014
GENRE: Memoirs
PREMISE: Amy Poehler writes about some of her experiences in her career and the things she has learned from these experiences.
MY REVIEW: I'm not going to lie to you, this review comes with much bias. I adore Amy Poehler. She's one of my favorite SNL stars, I tend to like basically everything she does. This memoir is no exception.
If you are familiar with celebrity memoirs, this follows much of the same pattern. There's a brief history of her career, that is full of some funny and pretty on point commentary about growing up. There's some talk about her rise in SNL and then she briefly goes into motherhood and her other projects. Some people guest write parts, such as her parents talking about when she was born. I found that kind of clever.
If you picked this one up, you are probably an Amy Poehler fan as well. Therefore, I doubt you'll be disappointed. I do wish there were some more details. Like, I would have liked stories about her time working on Mean Girls. But, perhaps she's saving those for a future biography. Her career certainly isn't over any time soon, Considering the success of this book, I suspect we may see her write another.
WHO SHOULD READ: Amy Poehler fans, Bossypants fans, those into celebrity memoirs
MY RATING: Four out of Five awesome celebrities