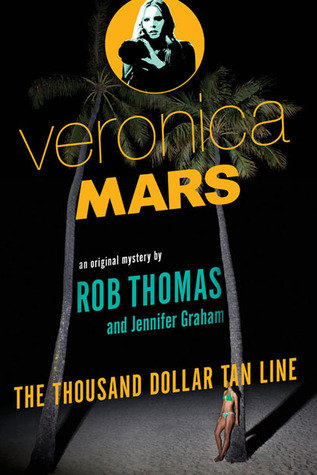 TITLE: The Thousand Dollar Tan Line
Veronica Mars Book 1
AUTHOR: Rob Thomas and Jennifer Graham
PUBLISHED: 2014
CATEGORY: Adult
GENRE: Mystery
PREMISE: Taking place after the Veronica Mars movie, this new series starts as Veronica gets her first major case as an adult PI.
MY REVIEW: As a rule...I don't tend to do tie-in novels. Usually, I don't see the need for them. Especially if the series it ties into is still going on or ended in a satisfactory way. There are some exceptions to this. I have been known to pick up some Star Trek books now and then. I also plan on picking up some of the new Star Wars expanded universe books. There are also the new YA books that DC and Marvel are doing (FYI Marvel, I would not be adverse to a Ms Marvel YA series). Then there's this series that started last year.
I am a big Veronica Mars fan. I loved the movie and I'm sad that it looks like that may be the last we see of it for awhile. But we're getting iZombie from him at least and that show is awesome (seriously, check it out, even if you're not into zombies). This series picks up where the film left off and we get to see adult PI Veronica in action and it's wonderful. There is a bit of a lack of Logan as he's still doing his thing, but we do get Keith Mars, Veronica's awesome friends, and Weevil even makes a brief appearance. It's a almost as good as getting a sequel to the movie/series.
The writing itself is average for tie-in novels. But when picking up books like this, I don't tend to really judge the writing. I tend to judge if it feels like the series and in this case, is a natural continuation of it. It is. The writer gets these characters and doesn't ruin Veronica in any way. I say, job well done. I'm definitely picking up the next book. If we can't have more Veronica Mars, this series is at least a good stand in.
WHO SHOULD READ: Veronica Mars fans
MY RATING: Four out of Five camaras