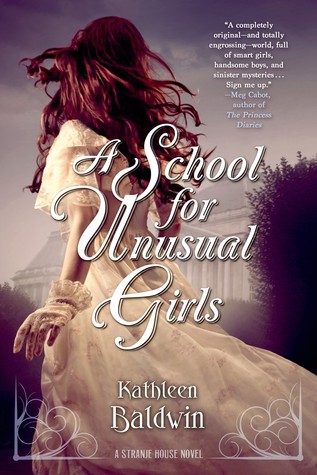 TITLE: A School for Unusual Girls
Book 1 in the Stranje House series
AUTHOR: Kathleen Baldwin
PUBLISHED: May 19th, 2015
CATEGORY: YA
GENRE: Historical Fantasyish
PREMISE: In 1814, a young girl with a gift for science gets sent to a reform school, which turns out to actually be a school where girls are trained for spy work.
MY REVIEW: If that summary sounds an awful lot like Y. S. Lee's Agency series....you're not totally off. This series is pretty much that, just a little more fantasy oriented, more female character interaction, and more romance focus.
This was a bit of a mixed bag for me to be honest. I loved the concept and the author runs with it fairly well. The romance...was your typical stock romance but it was fun stock romance if nothing else. Turns out that apparently this writer writes adult romance and this is her first YA book and after knowing that, a lot of this book suddenly made sense. It's very much in the vein of category historical romance novels.
For the most part, it's enjoyable. I don't particularly find it original, but it was at least a fun read. If you can't be original, at least make your idea fun and the author definitely accomplished that.
WHO SHOULD READ: Agency series fans, historical romance fans
MY RATING: Three and a half out of Five spy schools