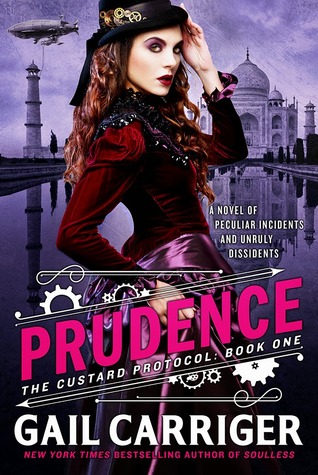 TITLE: Prudence
Book 1 in the Custard Protocol series, Spin-off of the Parasol Protocol series
AUTHOR: Gail Carriger
PUBLISHED: March 17th, 2015
CATEGORY: Adult
GENRE: Steampunk/Adventure
PREMISE: Alexia's daughter is now all grown up and is off on the start of her own adventures in India.
MY REVIEW: This will probably come as no surprise to anyone who reads this blog: I adored this. I've enjoyed pretty much all of the Parasol Protectorate world books and this new addition to the world is no exception.
Prudence is just as fun as her mother, yet she's not a carbon copy of Alexia. This new generation is fun to hang out with because unlike the first one, they all knew each other from when they were kids so it's like hanging out with a bunch of best friends on a flying ship. I will admit, the story itself is a bit slow, but that's mostly because it's a first book introducing characters and plots that are to be developed later in the series.
But as an intro to a series, it does its job. I can't wait to spend more time with Prudence and see more of this great world that Carriger has created.
WHO SHOULD READ: Parasol Protectorate fans, steampunk fans
MY RATING: Four out of Five promising starts to a fun series