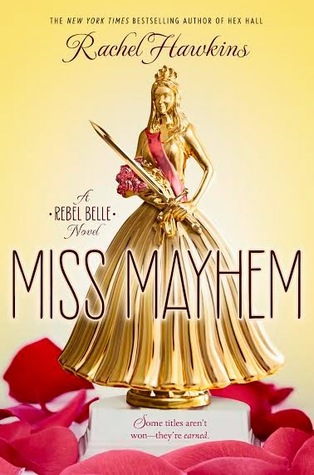 Title: Miss Mayhem
Book 2 in the Rebel Belle series
Author: Rachel Hawkins
Published: April 7th, 2015
Category: Young Adult
Genre: Urban Fantasy
Premise: Harper has just started to get used to life as David's Paladin when Ephors decide that instead of killing David, they'll train him. They just don't trust her to protect him and decide to put her through trials to prove she's worthy of the job.
My Review: It's always a pleasure when a favorite series returns and doesn't stop being awesome. This second book is just as action packed and fun as the first book.
There was literally no plot stall here. That is a hard thing to do, but Hawkins did it and I applaud her for it. She trusts that readers are smart enough to remember the first book and so we aren't loaded with info dump after needless info dump. It it actually has something to do with the situation at hand, past details are brought up, but for the most part, there is no drag. We get more Bee this time around (yay!). We also get a bit of a peek into the other side and their motivations. This is all done with the great action and humor that made the last book so enjoyable.
Even better, is there were some things that happened that I WASN'T expecting. It's pretty rare when a YA book can honestly surprise me, but this one managed it and it did it in a pleasing way. I can't wait to get my hands on the third book after that cliff hanger.
WHO SHOULD READ: fans of Rebel Belle, Hex Hall fans, Buffy fans
MY RATING: Four out of Five southern belles kicking ass