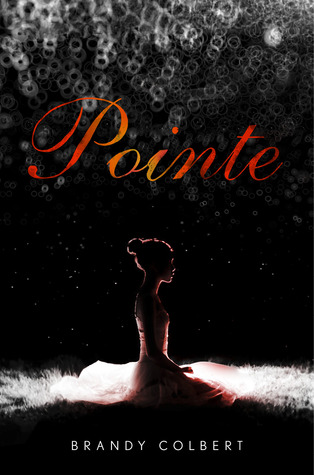 Title: Pointe
Author: Brandy Colbert
Published: 2014
Category: YA
Genre: Realistic Fiction
Premise: A girl's life spirals as a friend who disappeared comes back and secrets from back when he disappeared come to light.
My Review: I picked this one up on a whim because I recall it being talked about a lot last year. It's a heavy book that is pretty frank about things like teenagers having sex and swearing and doing drugs/drinking. So if that's not your thing...you probably won't get into it. Personally, I felt some of it was over-the-top, but that's what I tend to feel like a lot when authors try to pile that on in YA books. It literally feels like the author going "look how hip and in the know I am!" at you. Don't get me wrong, I don't think we should sugar coat things either. But there should be a balance, you know?
Other then that minor issue, it is a good book mostly. It's heavy book mostly due to the subject matter. This is one of the few times where I feel the story would have benefited more from actually having two points of view. The story stalls a lot in the middle because we don't know what's going on with Donovan. I kind of wish we had gotten his view of things. As it is, we don't. While it still answers a lot of things in the end...it felt a little incomplete and ended quite abruptly. But that's kind of how most of these contemporary books tend to end so there you go.
Whether you like this book or not will probably just come down to a matter of taste and whether or not you're in the mood for such a story or if you like books that tackle serious issues.
WHO SHOULD READ: those in the mood for serious issue books, realistic fiction fans, Speak fans
MY RATING: Four out of Five ballet shoes