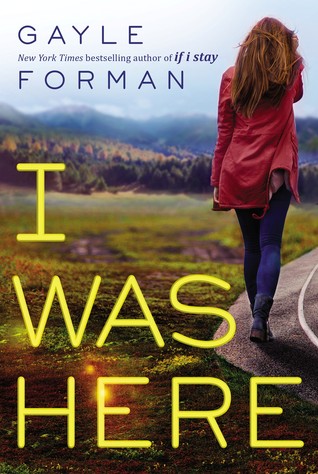 Title: I Was Here
Author: Gayle Forman
Published: January 27th, 2015
Category: YA
Genre: Realistic Fiction
Premise: A girl deals with her grief over her best friend's sudden suicide.
My Review: This is one the kind of book I suspect people will mostly seek out because they want too. Forman has a large readership by now so she has a built in fanbase. This certainly is a good introduction to her stuff.
The subject is why I feel it'll probably just come down to a matter of if the person wants to read it or not. It deals with suicide and grief and I don't know about anyone else, but that's something I have to be in the mood for.
It's definitely a good book, if a bit slow moving. I'm still not sure how I feel about the ending and that's probably another thing that will come down to the person in question. I've seen very mixed reactions. I say pick this one up from the library if you're not sure if it'll be to your taste.
Who should read: Gayle Forman fans, Thirteen Reasons Why fans, those looking for serious issue books
My Rating: Four out of Five tissues