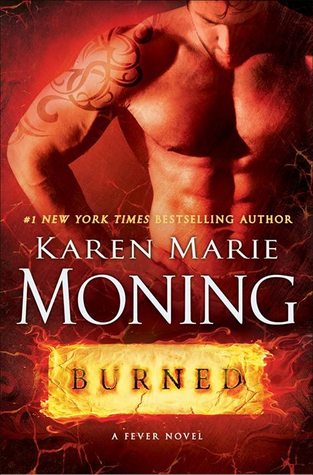 Title: Burned
Book 7 in the Fever series
Author: Karen Marie Moning
Published: January 2015
Category: Adult
Genre: Urban Fantasy, Faeries
Premise: Mac deals with all the changes around her as well as her complicated relationship with Barrons
My Review: So it's been about what, two years or so since the last book? A year and a half, at least. During that time, I've come to realize some deep flaws in this series. Which is a downfall that can happen when you have to wait so long for the next book.
This next book....has only honestly furthered some of those flaws. I do not like how this series handles rape at all. I've never liked it. But I swear, it's kind of gotten worse. I also am not terribly fond of what happened with Dani. On one hand, at least now there's not an icky underage thing between her and the guys lusting after her. On the other hand...it basically replaced her character with another, so no more Dani. Who was basically my sole reason for hanging on to this series at this point. The fact that it feels like it was basically done so the author could go ahead with the romantic relationship without a squick factor...kind of just adds salt to the wound.
On the other hand....it's still entertaining. I still love what Moning does with the mythology. There was a thing at the end that was shocking. But I'm not sure if I'm going to bother with the rest, now that it looks like Dani is basically gone.
WHO SHOULD READ: fans of the previous books still into it, faerie fans, urban fantasy fans
MY RATING: Three out of Five things happening to favorite characters that I don't care for