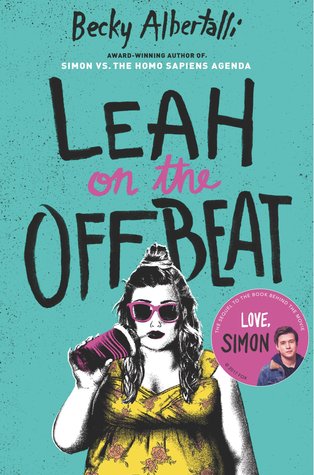 TITLE: Leah on the Offbeat
Companion book in the Simon VS the Homo Sapiens Agenda series
AUTHOR: Becky Albertalli
CATEGORY: YA
PUBLISHED: April 24rth, 2018
GENRE: Contemporary, Romance
PREMISE: Simon's friend Leah goes through her own set of troubles as she deals with the looming of college, dealing with her sexuality, and a crush on a girl that she thinks is hopeless...
MY REVIEW: I love Becky Albertalli's books, so I should probably give a bias warning for this review. She's basically an auto-buy author for me now. So whenever there are more Albertalli books in the future, I will be reading them.
As with all of Albertalli's books, this one was just cute. It is fast paced, there's some great lines in it that just nail things, and there's a romance I actually don't mind. I will admit that story wise...this was all over the place and I kind of think it lost focus too much. Quality wise...I think it's not as good as her first two books.
But it is still very enjoyable. At the end of the day, it was mostly what I wanted from it, so I'm not complaining too loudly and don't think it's bad or anything like that. I can't wait for whatever she has in store for us next. The only one I know of coming out is the one she's writing with Adam Silvera that's coming out later this year. I am thrilled about it and have my money and my tissues ready.
WHO SHOULD READ: Simon VS the Homo Sapiens Agenda fans
MY RATING: Four out of Five happy reads