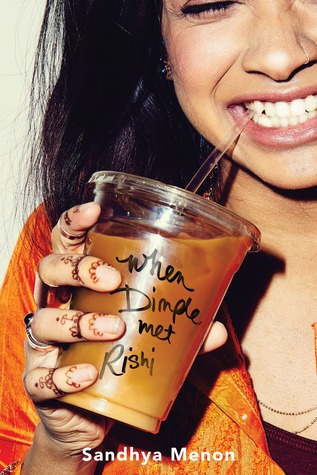 TITLE: When Dimple Met Rishi
AUTHOR: Sandhya Menon
PUBLISHED: May 30th, 2017
CATEGORY: YA
GENRE: Contemporary, Romance
PREMISE: A girl meets her betrothed at a convention. The only problem? She doesn't want to be betrothed.
MY REVIEW: This is one of those books everyone and their mother has been raving about around the YA book community. To be fair: I get it. It is a very charming book. I just suspect I wasn't the right audience for it. This is for those who just want a true epic romance that doesn't really tackle much else.
I do think the author tried to tackle other things. I see issues floating about in here such as cultural conflicts, girls in tech, sexism in the tech industry, etc. But...the author didn't spend enough time on those issues and kept pushing them aside in favor of the cute romance. On one hand: it is romance so I get it. On the other hand: this stuff is pretty big stuff...so it all kind of felt really out of place in what was otherwise a very fluffy romance. I sort of felt like there were two books here that the author had been working on. One was the cute romance sort of talking about generational conflicts in Indian culture. The other was the one about a cute romance dealing with girls in tech. The two plots...didn't really gel well for me and the book sort of suffered as a result.
If one ignores that the author didn't really touch on issues very well and just focuses on the cute romance part...this book was decent. The dialogue is nice and snappy, characters are fleshed out, the romance is cute. The author just needs to work on her plotting a little better because a lot of this book dragged and again, it suffered from too many ideas going on that didn't blend well together. I do think Menon is promising though. I will be checking out her books in the future when I just want cute romances.
WHO SHOULD READ: Bollywood movie fans, Romance fans
MY RATING: Four out of Five cute romances that did the job