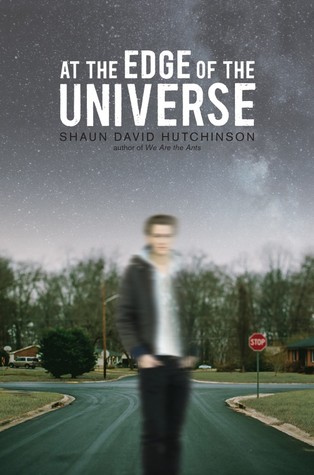 TITLE: At the Edge of the Universe
AUTHOR: Shaun Hutchinson
PUBLISHED: February 7th, 2017
CATEGORY: YA
GENRE: Science-Fictionish, Contemporary
PREMISE: Tommy remembers Ozzie, his boyfriend. Everyone else...does not.
MY REVIEW: I read We Are the Ants last year and promptly fell in love with it. It was one of those books I picked up on a whim, not expecting much, and it just sort crept up on me and suddenly it was a favorite. This is the second book by Hutchinson that I've read and I think its cemented him as a favorite author for me.
This kind of has the same idea as We Are the Ants: there's a possible major world catastrophe going on in the background as a guy goes through life trying to figure things out. You don't know if it's in his head or actually real and honestly....don't get many answers in the end, so for that....it's a tad frustrating. But character wise...this book packs as much of a punch as We Are the Ants.
If you're not into sci-fi, don't let that element of the book turn you off of this. It plays very little into the story. A majority of this story is character development and typical contemporary drama stuff. It is very much of a slow burn of a book, but the pay off at the end is worth it.
WHO SHOULD READ: fans of We Are the Ants, Magical Realism fans
MY RATING: Four out of Five disappearing universes