So I read two poetry books this past month. I know, who am I? But I am going to be doing poetry as the genre I'm focusing on next year and I thought I'd get an early taste of it by knocking off some recent poetry releases off the TBR list. Here they are: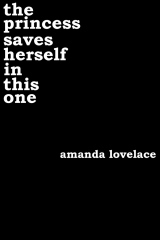 TITLE: The Princess Saves Herself in This One
AUTHOR: Amanda Lovelace
CATEGORY: Poetry
PUBLISHED: 2016
SOME THOUGHTS: I liked this one. As I often say with these things: I am not a poetry expert. I haven't even taken a class in it. I can't tell you what is good style and what is bad style and whatnot. All I can do right now is let you know if I liked it or not. I liked this one.
MY RATING: Three and a half I liked it shrugs
TITLE: There Are More Beautiful Things Than Beyonce
AUTHOR: Morgan Parker
CATEGORY: Poetry
PUBLISHED: February 14th, 2017
SOME THOUGHTS: Again I liked this. Again...not sure if it is actually good or not. But I can tell you there's some poems in here that really struck a cord with me.
MY RATING: Four out of Five cleverly titled poems