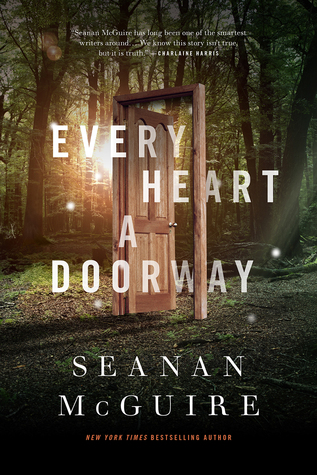 TITLE: Every Heart a Doorway
Book 1 in the Wayward Children series
AUTHOR: Seanan McGuire
CATEGORY: Adult (though I think it has good crossover appeal for YA)
PUBLISHED: April 2016
GENRE: Fantasy, Classic Book referencing
PREMISE: A home that takes in children who have gone to magical places and have come back starts having mysterious deaths.
MY REVIEW: I didn't really know what to expect from this book. I've never read Seanan McGuire though I've been meaning to get to her stuff for awhile because I hear good things about it. After this book, I'm definitely giving her other books a try now, I loved this book a lot.
I have very little complaints about this series, beyond that I think it probably should have been longer because while the world was detailed and so much fun, the characters...needed work. But it still managed to have good story going. I liked the mystery element and where it led. The ending...I'm not sure about that, but I do think this is a good start to a very interesting series. Also, kudos to the author for having an asexual character. There are far too few books with asexual characters in them. This is...my...forth book now that has had asexual character? Which is really sad when you think about how many books are published per year. Now if only we can get some demi-sexual characters out there, But I'm not holding my breath. I'm still shocked we got a trans character.
I will say though...these shouldn't be hardcover since they're less then two hundred pages. I have a hard time putting twenty dollars into a book that I can read in less then two hours. Seriously, publishers, why? If it weren't for that price, I totally would buy this and the rest of the series. Because I did enjoy this a lot. I definitely will be checking out more Seanan McGuire in the future.
WHO SHOULD READ: Seanan McGuire fans, portal fantasy fans,
MY RATING: Four out of Five magic doorways