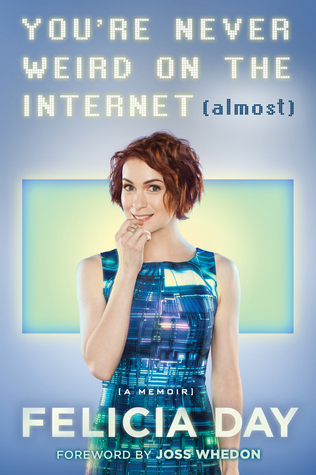 TITLE: You're Never Weird on the Internet (Almost)
AUTHOR: Felicia Day
CATEGORY: Non-Fiction
GENRE: Memoirs/Social Commentary
PUBLISHED: August 2015
PREMISE: Youtuber/Actress Felicia Day talks about her experiences in nerd culture, how it shaped her career, and many other things.
MY REVIEW: This kind of book is probably going to be a niche sort of books. It'll generally appeal to a certain kind of person. Namely, it'll mostly appeal to fans of Felicia Day or perhaps nerds who happen to know her from the many things she's been on. Luckily, I fall into the fan of Felicia Day category. I've seen basically everything she's been in, I love her channel on YouTube, and she has even has a great book club on Goodreads that I check into from time to time because I've found some hidden gems that the members have recommended.
If you are familiar with Felicia Day and way she does her YouTube shows/commentary then this book will likely be familiar territory for you. This is basically her journey in nerdom written in her style. It goes into what her early years were like, to how she became interested in acting, to eventually writing and starting The Guild TV show. It's a lot of fun, and as a geek I related to a lot of it (I'd probably be just the same if I ever met Nichelle Nichols in person).
This was pretty much what I expected it to be: a fun and witty memoir. There was some nostalgic moments that made me think back to those early days of geekdom (ah...yahoo mailing lists....) and I got to learn some things I didn't know about a favorite actress/celebrity. All in all, a fun read.
WHO SHOULD READ: Felicia Day fans, those in geek/nerd culture
MY RATING: Four out of Five fun memoirs