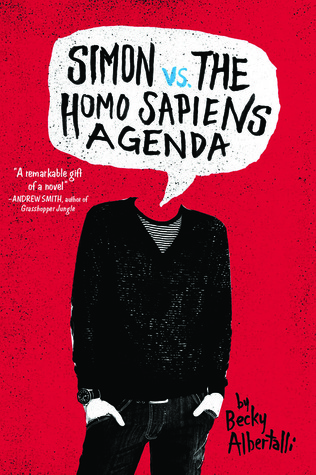 TITLE: Simon VS The Homo Sapiens Agenda
AUTHOR: Becky Albertalli
PUBLISHED: April 2015
CATEGORY: YA
GENRE: Realistic Fiction, Romance, LGBT
PREMISE: Simon has been in the closet for awhile now and is fine with that, then he gets blackmailed by a fellow student who threatens to out him if he doesn't do what the student wants him to do.
MY REVIEW: I adored this book with every fiber of my being. I'm honestly hard pressed to find something I didn't like about it. Really the only nay saying thing I can say is that story wise...it's probably not very ground breaking. As far as LGBT books go, this is actually very light stuff. But...that's kind of why I liked it.
Look, I love things like Aristotle and Dante and I've heard fantastic things about The Miseducation of Cameron Post (that's on my list of things to finally get too this year actually). I'm not saying there shouldn't be more books like that. But sometimes I just want an LGBT romance that is just cute and that pretty much is what this book is. There is some seriousness in there about how forcing people out of the closet is not cool. That is an important issue. But mostly this was just a cute romance that I honestly want to see more of. Give me all the LGBT meet-cutes in YA. Straight couples get a bunch of them, LGBT couples should as well.
This is just one of those books that puts a smile on your face, even as the character is pining and there's the usual angst that comes with YA. It's just a very likable and very readable book. If books like this become a trend in YA, I don't mind one bit.
WHO SHOULD READ: those looking for lighter LGBT reads, romance fans, realistic fiction fans
MY RATING: Four out of Five adorable characters to root for