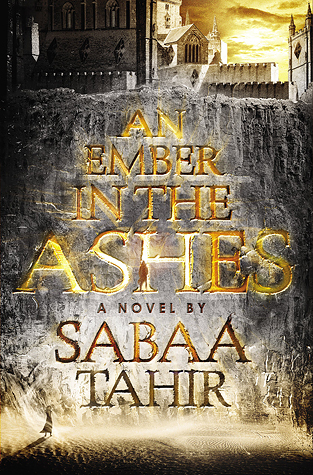 TITLE: An Ember in the Ashes
Book 1 in Ember in the Ashes Trilogy
AUTHOR: Sabaa Tahir
CATEGORY: YA
PUBLISHED: April 28th, 2015
GENRE: Fantasy
PREMISE: Fantasy about a rebellion brewing and a boy and girl from different sides caught up in the struggle.
MY REVIEW: This has been the it YA book of the moment lately. Everyone is talking about it. It's been passed around like wildfire. I'm probably one of the last bloggers on the planet to read it because I am me. Luckily, it does live up to the hype for the most part.
I'll be honest, I'm not as in love with it as everyone else seems to be. To me, it's pretty average fantasy to be honest. The world building is a bit thin for my taste and the romance is not very well developed. Other then those issues though, the story is great. The writing is well done and the characters are nice and complicated, when they're not having predictable romances. There are twists and turns everywhere, like all good YA has, so it's definitely a page-turner. I absolutely see why people have gotten into it.
So some of the praise has maybe been a bit over the top, as usual, in this day and age. But mostly, this is a well done YA fantasy, and one of the strongest debuts I've read this year. This is also a perfect book for those of you who are awaiting the third book in the Winner's Trilogy. It's got much of the same vibe as that trilogy does.
WHO SHOULD READ: fantasy fans, Winner's Trilogy fans
MY RATING: Four out of Five warriors