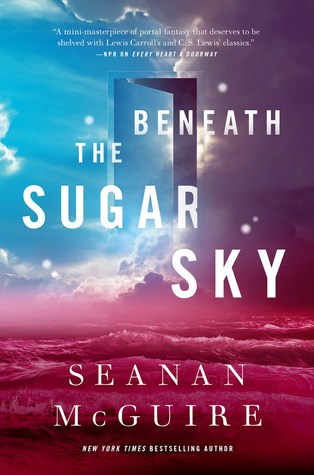 TITLE: Beneath the Sugar Sky
Book 3 in the Wayward Children series
AUTHOR: Seanan McGuire
PUBLISHED: January 9th, 2018
CATEGORY: Adult
GENRE: Fantasy
PREMISE: We return to Eleanor West's Home for Wayward to join a new group of people who go on a journey to a land made of candy...
MY REVIEW: I should probably just go ahead and put up a bias warning whenever I review these books. Because I honestly just love them. Sometimes there are series where you feel like the author peeked into your head and wrote your ideal series. This series is one of those for me.
As with the other books, this is fairly short. It's a novella, so it's just under two hundred pages. As with the other books, it's very whimsical, has a very fairy-tale like writing style, a diverse group of characters, and a nice and satisfying plot.
If you liked the other two books in the series, I would absolutely read this one as well. It looks like we will be getting at least two more books in the series and I can't wait.
WHO SHOULD READ: fans of Every Heart a Doorway, fairy tale fans, fantasy fans
MY RATING: Four out of Five series I adore