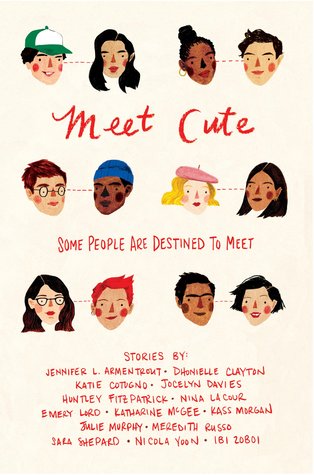 TITLE: Meet Cute: Some People Are Destined to Meet
AUTHOR: various authors, edited by Jennifer L. Armentrout
PUBLISHED: January 2nd, 2018
CATEGORY: YA
GENRE: Romance, Contemporary
PREMISE: A short story collection featuring a wide variety of meet cutes.
MY REVIEW: This is the first of many interesting looking short story collections out this year. For those that do not know what meet cutes are, they are basically a romance trope. They're just cute circumstances through which two characters meet. Like say...they get stuck in an elevator, strike up a conversation, and a relationship develops from there. That sort of thing.
As with all short story collections, this was a mixed bag. But I will say there were more stories here that I loved then usual. So that's a bonus. There were only two stories I outright did not like. One was a story where the girl was cheating on her boyfriend by kissing the guy. Sorry, I don't find cheating very cute. The second was the story by Ibi Zoboi who is the author of American Street. It pains me that I don't like Ibi Zoboi's stuff. I tried to read American Street last year, but just had to DNF it, because there was so much girl hate and that was taking away from the important stuff she was trying to talk about in it. In this story, it was the same deal: great message about loving yourself when others don't, but hindered by constant girl hate. Also writers: you can write about fat acceptance without shaming skinny girls. It can actually be done. Pushing down one group of people, to prop up another group of people is not okay. I think I'm just going to have to give up on Zoboi. This seems to be a feature in her writing and I'm sorry, I'm just not okay with it. I wish her well, because the stuff she writes about is important, but it's just not for me.
But other then those two stories, I liked a majority of the stories in here. Some...I don't particularly think qualify as meet cutes, but they were cute so I'm okay with them. I'm pleased with the amount of f/f stories in here. There is also one cute story with a trans girl as the main character. I do wish there had been some m/m romances as well, but overall I'm pleased with it. The best stories to me were:
Print Shop by Nina LaCour
Somewhere That's Green by Meredith Russo
The Way We Love Here by Dhonielle Clayton
259 Million Miles by Kass Morgan
The Department of Dead Love by Nicola Yoon
WHO SHOULD READ: romance fans, romantic comedy fans
MY RATING: Three and a half out of Five cute romances