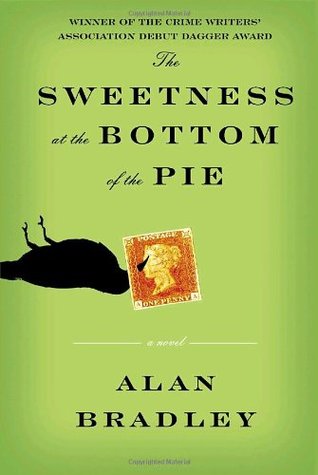 TITLE: The Sweetness at the Bottom of the Pie
Book 1 in the Flavia de Luce series
AUTHOR: Alan Bradley
CATEGORY: Sold as Adult, but I think it can be considered YA/Middle-Grade as well.
GENRE: Historical Mystery
PUBLISHED: 2009
PREMISE: A precocious little girl goes on the case when her father is accused of murder.
MY REVIEW: This is one of the many series out there that I've been meaning to get to for ages. I definitely see why it's caught on. It's very charming. Most of that is due to great narration that Bradley has with Flavia.
As far as mysteries go, this one isn't terribly ground breaking. It's an interesting one with some twists. It was well played out. Like most of these series though what carries it are the main characters. Flavia is a great character and the dynamics of the family are fascinating and honestly most of what made the book for me. There's also that sardonic sly humor that I have come to associate with British authors. No one does sarcasm quite like Brits.
While it does get terribly slow around the middle, for the most part, this is a good read. I'll definitely be looking into the rest of the series for next year as I plan to focus next year on mystery and romance books.
WHO SHOULD READ: Nancy Drew fans, historical mystery fans, fans of kid sleuths
MY RATING: Four out of Five magnifying glasses