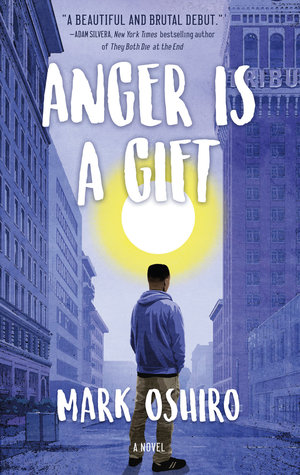 TITLE: Anger is a Gift
AUTHOR: Mark Oshiro
CATEGORY: YA
GENRE: Contemporary
PUBLISHED: May 22nd, 2018
PREMISE: Moss' life gets turned upside down when his school starts getting metal detectors and a heavy police presence...
MY REVIEW: Some of you may know Mark Oshiro from Mark Reads or Mark Watches or his general Mark Does Stuff website. I've been a fan of his for awhile now. I used to actually comment on his readalongs/watchalongs but stopped and now mostly just lurk. So I was pretty excited to hear that he had written a book.
I am pleased to say: it is great. There are a lot of comparisons being made to The Hate U Give and that is definitely apt. This takes a lot of the issues brought up in that book (as well as the book Dear Martin) and builds on it in a wonderful way.
This book does not play. To quote Mark himself: shit gets real. Very fast. There's a bit in the middle and end that is especially gut-punching. Basically, this book is just damn good. Read it. Especially if you need something to tide you over until THUG movie or Angie Thomas' new book in February.
WHO SHOULD READ: THUG fans, Dear Martin fans, Adam Silvera fans
MY RATING: Five out of Five tear stained tissues